Trinity D Fencing Club is a highly competitive fencing club that also
welcomes recreational fencers.
 We offer Beginning, Intermediate, and Advanced level training. Private instruction is available and recommended.
Our Beginning level classes are designed to introduce students to the exciting art of fencing, teach fundamentals, build stamina, and increase self esteem. The Intermediate & Advanced classes focus on techniques and tactics(strategies) preparing students for competition
 Trinity D Fencing Club is the first fencing club registered under Malaysia Sport Commissioner in Malaysia [Kelab Lawan Pedang Trinity D (PSM4414/2011)]. This designation identifies clubs that demonstrate the high standard of managing and coaching. All of our Coaches are Qualified and Certified,they are SUKMA Coach ,Universities Fencing Club's Coach and Fencing Instructor who giving lecture (Fencing) in Universities.
Specialise in;
Fencing

Contact: Desmond Lee (President)
   Tel: 016-258 5756
Address: 2A-2, Jalan MP 10, Taman Mederka Permai, Batu Berendam, 75350 Melaka
GPS:  2.25046, 102.240411
Email: [email protected]
1. Fencing Classes & Courses
2. Fencing Competition (Organizing)
3. Corporate Fencing (Team Building & Fencing Duel)
4. Fencing Camps
5. Fencing Workshop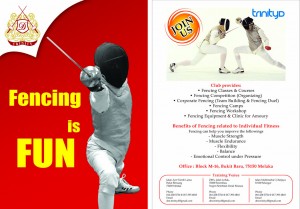 Trinity D Fencing Club (Placemark)