Our motto is "Be who you wannabe"
More than just an academy of creative and performing arts, at I Wannabe Academy, our specialised programmes equip students with confidence, love of the arts, and an appreciation of what can be accomplished with hard work and determination.
Students create their pathway to success under the expert guidance of I Wannabe Academy, allowing them to realise their artistic nature and bring the best of their talent to shine!
What are you waiting for? Take the first step in paving the way for your dreams with I Wannabe Academy – be it in arts or dance, we are there to guide you every step of the way.
Specialize in;
Ballet | Dancing | Art Class
Classes available:
 Ballet | Hip Hop | Kpop | Dance Fitness Program | Arts & Crafts | Drawing & Painting | Belly Dancing | Yoga
Programmes available for kids and adults.
One free trial class*   &  Free goodie bag upon registration*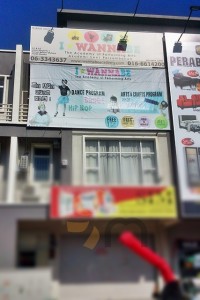 Address: 3-1 & 3-2, Jalan Magenta 1, Taman Bertam Mutiara, 75250 Melaka.
GPS: 2.247924, 102.223534
Contact: Janice Yong @ 016-6614200
Tel: 06-3343637
Email: [email protected]   Website: www.iwannabeacademy.com
Business hours: Tuesday – Friday : 11.30am – 8.30pm
Saturday : 9.30am – 7pm
Closed on Sunday & Monday

..Our Studio..
I Wannabe Academy Studio (Placemark)

 *terms and conditions applied