Your Beauty is Our Priority
 Impression Beauty Corner Melaka, a beauty, facial salon for those who love their skins. We have more than 19 years of experience in beauty care specialise in eyebrow embroidery, eyeliner, lips embroidery and many more. In Impression Beauty we have variety of package that design to suits your beauty needs.
Come to us today and we make you Impress by our services.
Specialise in:
Facial | Eyebrow Embroidery| Eyelash
Eyeliner / Lip Embroidery | Laser Tattoo Removal | Facial for Men & Women | Body Slimming | Body Massage | Bust Enhancement & Lifting | Waxing | Make-up | Hair Do | Permanent Hair Removal Program | Mole / Skin Tag Removal | Bikini Wax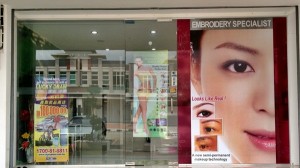 Address: 39, Jalan MP 12, Taman Merdeka Permai, Batu Berendam, 75350 Melaka.
GPS: 2.251575, 102.239585
Contact: 012-616 8328
Tel: 06-3355 111

Business Hours: 10 am – 7pm (Tuesday – Saturday)   10am – 5pm (Sunday)
Closed on Monday
Email: [email protected] Website: www.impressionbeautycorner.com

Scan Me
Vacancy

Experience Beautician / 学徒
What is Eyebrow Embroidery?
Eyebrow embroidery  also known as semi permanent make-up for eyebrow. For  most Asian women, their eyebrow hairs tend to be coarse and sparse. So, instead of make-up, most has turn to eyebrow embroidery. The color is only injected onto the top layer of the skin, so the colors won't change. The effect isn't permanent but it can last up to two years and possibly longer with frequent touch ups.
Eyebrow Embroidery Vs. Eyebrow Tattoo
Eyebrow embroidery is a different procedure than that of eyebrow tattooing. In eyebrow tattooing, the procedure aims for a permanent brow shape and structure. At times, eyebrow tattoo offers an artificial look, it doesn't look natural and the worst is that the color will change to green or blue after some time. And to remove it one need to get the tattoo laser off.
Eyebrow embroidery offers better options. It is a semi-permanent procedure, thus you will have to undergo through the process after two years or so. In eyebrow embroidery, the brows are shaped and inked on the surface of the skin. Its main goal is not to give the brows the perfect shape, but rather to give more volume on the brows' natural contour. Through this procedure, the brows are given a steady shape and structure without going beyond their natural aesthetic features.
The procedure in eyebrow embroidery lasts within an hour, and there is only slight pain to be felt during the process. It is also common for the ink to fade 10 days after the procedure, as this is retouched during a follow-up session. The embroidery is good to last for up two years, depending on your skin.
Through eyebrow embroidery, you get better looking brows without going through the effort for consistent retouching or shaping. You not only get to save money for eyebrow pencils-you also get to look more naturally beautiful.
Eyebrow embroidery is consider very safe as the Ink only on the surface of the skin
Gallery

…Our Beauty Salon…

| | |
| --- | --- |
|   |   |
| |   |
| |   |
| | |
| | |
| | |
| |   |
| |   |
Impression Beauty Corner (Placemark)