Hotel Melaka

Hatten Hotel Melaka located  in the heart of the city, this business class hotel is surrounded by UNESCO historical and heritage sites as well as major shopping centers and businesses. Hatten Hotel Melaka is sited above Hatten Square and is linked to Dataran Pahlawan. The numerous attractions it is near include Jonker Street, A'Famosa, Stadthuys, Flor de la Mar Maritime Museum, and Baba & Nyonya Heritage Museum. Where contemporary design meets comfort, Hatten Hotel Melaka's spacious guest rooms offer breathtaking views of Melaka city.
Promotion Mid Autumn 2017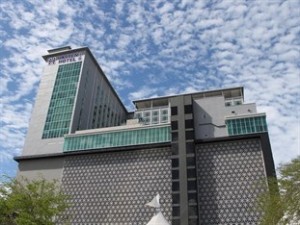 Address: Hatten Square, Jalan Merdeka, Bandar Hilir, Melaka Raya, 75000 Melaka.
Tel: 06-286 9696
Check In : 3:00pm    Check Out: 12:00pm
Hatten Hotel Melaka (Placemark)