SIGNBOARD Melaka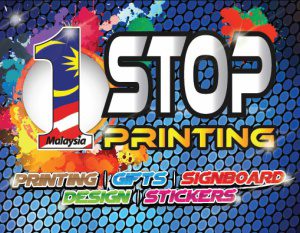 1 STOP PRINTING Melaka, a One Stop Printing Centre for all your advertising need such as SIGNBOARD, PRINTING and SOUVENIRS. We are specialize in signboard, have our own team production and the best part is we are here to help you by giving the best sales services and able to work on urgency for you in some cases. Just give us a contact and we'll be there for you !
 1 STOP PRINTING Melaka, merupakan kedai berkonsepkan 'One Stop' yang menawarkan pelbagai jenis perkhidmatan pencetakan, membuat papan tanda iklan dan menjual cenderamata korporat. Kami menawarkan pelbagai jenis produk dan rangkaian HARGA YANG TERMURAH di pasaran bagi memenuhi permintaan & bajet pelanggan. Syarikat kami dimiliki sepenuhnya oleh Bumiputera dan berdaftar dengan Kementerian Kewangan bagi memudahkan proses L/O Kerajaan. Menerima kerja last minute & sedia membantu anda ! 
Termurah di pasaran!
Specialise in:
3D LED SIGNBOARD | PRINTING | SOUVENIR
PRODUCTS
Signboard Melaka | Billboard | Banner | Bunting | Backdrop | Billboard | Emboss | Box Up Signage | Road Sign | Flyers | Brochures | Poster | Booklet | Magazine | Wedding Cards | T-Shirt | Uniforms | Paper Bag | Non-Woven Bag | Souvenir | Premiums | Mug | Medal | Trophy | Stationery | Whiteboard | Design | Packaging | Neon Sign | Calendar | Note book | Folder | Rubber Stamp Express | Eco Products
WE ARE SIGN MAKER
Address: No21, Jalan Graha Maju, Jalan Kilang 75300 Melaka
GPS: 2.204192, 102.247785
Contact: Abdul Hameed Salleh @ 012 941 8630

Tel: 06-281 2121
Business Hours: 9am – 6pm (Monday – Saturday)
Sunday by Appointment
Email:[email protected]  Website: www.1stop.com.my

DOWNLOAD CATALOGUE
a)      Premiums Goods & Gifts Catalogue
b) Premiums Gift & Souvenirs Catalogue
c)      Corporate Uniform Catalogue
Our Gallery – SIGNBOARD
Gallery
1 Stop Printing (Placemark)