Fun Bake Enterprise the one stop supplier and retail for all bakery ingredients, bakery equipments in Melaka, Malaysia.
 Fun Bake also conduct Baking Classes monthly by distinguishes chef with hands on and demo learning experience, certificate of participation will be issued to students.
Specialise in:
Baking Ingredients | Baking Class
All Types of Flour | Dairy and Non Dairy Products| Food Grade Colouring/Flavors/Essences| Recipe Books| Chocolate Moulds and Products | Cake Tins and Moulds| Cake Boards and Boxes | Oven and Baking  Equipments | Baking Utensils | and many more
NEW Product – Push up Cake Container
CALL US NOW !
 FOR LATEST OFFERS, PROMOTIONS AND BEST BUY
Address: No.11, 11-1, Jalan IKS M1, Taman IKS Merdeka, 75350 Batu Berendam, Melaka.
GPS: 2.255321,102.2376
Contact: Mr.Tan @ 019-657 4550
Tel/Fax: 06-317 5889
Business Hours: 9:30am – 7pm (Monday – Saturday)
9:30am – 6pm (Sunday)
Email: [email protected] Webpage: www.melakapages.com/funbake

Kek hantaran
..Our Products..
..Our Baking Class..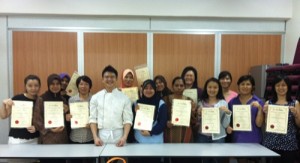 Fun Bake Enterprise (Placemark)