Water Filtration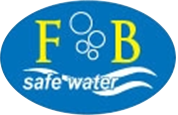 Water Filtration System | Melaka Filter
First Bond Water Enterprise was established in 2005 as a professional manufacturer, distributor and wholesaler of full range of water filtration system. We also provide sales and services for all types of water purification systems for house hold, commercial and industrial applications.
Specialise in;
Water Filter Vending Machine | Water Filter Melaka | Water Dispenser
Waste Water Treatment | Factory Water Filtration Services & Installation | Indoor Water Filtration | Swimming Pool Filtration | Drinking Water Filter
PROMOTION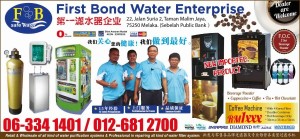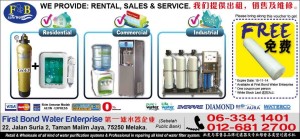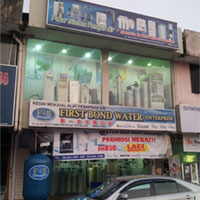 Address: No.22, Jalan Suria 2, Taman Malim Jaya, 75250 Melaka.
GPS: 2.233875,102.232234
Contact: Stephen Chan @ 012-681 2700
Tel: 06-334 1401  Fax: 06-334 1401
Business Hours: 9am – 6pm (Mon – Sat)
Closed on Sunday
Email: [email protected]  Website: www.firstbond.com.my

Scan us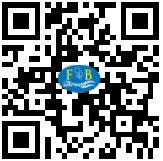 Products
Galleries
First Bond Water Centre (Placemark)