Family Store Sdn. Bhd. Supermarket began from a small grocery store situated in Sungai Udang, Melaka at the year of 1990. Since then, Family Store has been growing rapidly to date with more than 450 employees and offer more than 100,000 products with reasonable and fair price to our customers.
The year 1999 marked as the milestone for Family Store when we move to bigger store and become supermarket due to increasing demand from consumers. The momentum of Family Store expansion pick up rapidly after the first outlet of Family Store opened in Duyong, Melaka. Follow by 5 new outlets were open in droves, located strategically in Jasin, Batu Berendam (Headquarter), Melaka Mall, Masjid Tanah, Bachang and Bukit Rambai respectively to further satisfy the needs and desire of our customers.
Today, Family Store easily spotted around residential areas and has become a household name in Melaka.
Specialise in:
Supermarket | Retail | Pasaraya
Email: [email protected]     Website: www.familystoregroup.com
Scan us


SUPER COFFEE PROMOTION 13-22Oct 2017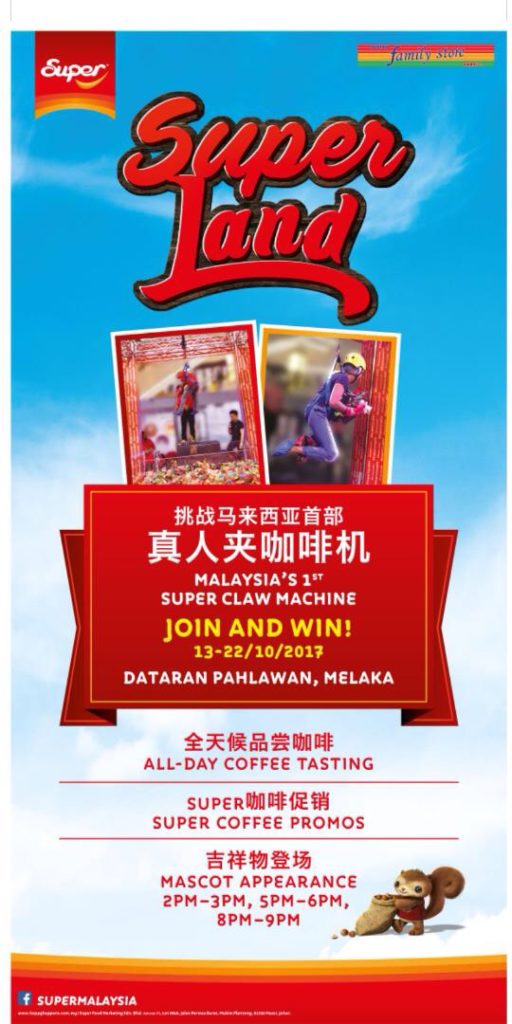 Our Store Location
Batu Berendam Family Store Sdn Bhd

Address: Gudang JKR 1336, Batu Berendam, 75350 Melaka
GPS: 2.250342,102.251633
Tel: 06-317 0461    Fax: 06-317 0462
Contact Person: Mr. Micheal Chong (012-665 6073)

Business Hours: 9:30am – 10pm (Open Daily)

MLK Mall Family Store Sdn Bhd

Address: Basement, Kompleks Melaka Mall, Lebuh Ayer Keroh, 75450 Melaka
GPS: 2.232245,102.282382

Business Hours: 10am – 10pm (Open Daily)

 Duyong Family Store Sdn Bhd

Address: No.2, 2-1, Jalan TDB 1, Taman Duyong Bestari, 75460 Melaka.
GPS: 2.203138,102.308743
Tel: 06-268 2873  Fax: 06-268 2873
Contact Person: Mr.Chong (012-919 6073)

Business Hours: 9:30am – 10pm (Open Daily)

Jasin Point Family Store Sdn Bhd

Address: Terminal Bas & Teksi Jasin, Bandar Jasin 3, Bandar Baru Jasin III,77000 Jasin Melaka
GPS: 2.313268, 102.431297
Tel: 06-529 3380  Fax: 06-529 2379
Contact Person: Mr. Nyon (012-399 6073)

Business Hours: 9:30am – 10pm (Open Daily)

Masjid Tanah Family Store Sdn Bhd

Address: SU3054-A, Jalan Masjid Tanah Ria Utama, Taman Masjid Tanah Ria, 78300 Masjid Tanah Melaka
GPS: 2.352143,102.107062
Tel: 06-385 1518  Fax: 06-385 1522
Contact Person: Mr. Tan (012-291 6073)

Business Hours: 9:30am – 10pm (Open Daily)

Bachang Family Store Sdn Bhd

Address: Lot1-A003, KIP Mart Melaka, Jalan Tun Fatimah, 75250 Melaka.
GPS: 2.233199, 102.250013
Tel: 06-335 8058 Fax: 06-335 8057
Contact Person: Mr. Chong (012-231 6073)

Business Hours: 9:30am – 10pm (Open Daily)

Bukit Rambai Family Store Sdn Bhd

Address: No.7000 Jalan PBR38, Kwsn Perindustrian Bukit Rambai, 75260 Melaka
GPS: 2.263168, 102.181596
Tel: 06-353 3998 Fax: 06-353 3997
Contact Person: Mr. Chong (012-231 6073)

Business Hours: 9:30am – 10pm (Open Daily)

SGU Family Store Sdn Bhd

Address: 2A/4A/8A/10A/12A/14A/16A, Jalan DTS 2, Taman Desa Taming Sari, 76300 Sg. Udang, Melaka.
GPS: 2.290163,102.136915
Tel: 06-357 2016  Fax: 06-357 2014
Contact Person: Mr. Chong (012-231 6073)

Business Hours: 9:30am – 10pm (Open Daily)