Fitness Center Melaka

Excel Fitness Studio & Rehab Center Melaka, most trendy fitness center Melaka. Complete with rehabilitation, fitness coaching, yoga, zumba, fit x abs, fit x cardio, Hi-Lo aerobics, nutrition juice bar & food supplements. We also provide private cardio room for ladies and sauna.
Your One Stop Fitness Center in Melaka
FREE Classes for Member Daily 8-9pm 
1. Zumba 2. Yoga 3. Fit X Cardio 4.Fit X ABS  5.Hi-Lo Aerobics
Specialise in;
Fitness Center | Gym | Rehabilitation | Fit X Cardio
Fit X ABS | Dance Class | Fitness equipment supplier | Sports Conditioning | Zumba | Yoga | Hi-Lo Aerobics | Personal Training | Martial Arts | Sauna Room | Coaching
Facilities;
Free Lockers | WiFi | Free Weight | Cardio Machine | Shower Room | Juice Bar | Free Body Analyze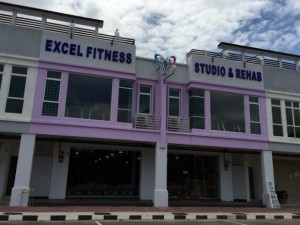 Address: 33, Jalan Zapin 1, Taman Paya Rumput Utama, Cheng, 75460 Melaka.
GPS: 2.282985,102.220261
Contact: Major Sugu @ 013-634 9329
Tel:06-337 0824
Business Hours: 6am – 10pm (Open Daily)
Email: [email protected]  Web: www.melakapages.com/excel-fitness

scan us

..Our Fitness Studio..

Galleries
Page Not Found
Excel Fitness Studio & Rehab Center (Placemark)