EP Supply & Services Mempunyai Visi dan Misi untuk menjadi pembekal dan penyedia perkhidmatan terbaik dalam bidang ini. EP Supply & Services menyediakan pembekalan dan perkhidmatan untuk barangan promosi bagi swasta dan kerajaan, ia merupakan syarikat Bumiputera yang berdaftar dengan Kementerian Kewangan.
EP Supply & Services, Vision is to be the best suppliers and service providers in this field. EP Supply & Services provides  promotional items such as souvenir and gift  for both private and government sector,event management, Pavillion set up, it is a 100% Bumiputera company registered with the Ministry of Finance.
Specialise in:
CUSTOM MADE T-SHIRT PRINTING & SUPPLY | SOUVENIR
 PROMOTIONAL ITEMS / CONFERENCE BAG / SPORTS WEAR / SPORTS EQUIPMENT / ADVERTISING / BANNER / BUNTING / EXHIBITION BOOTH / PA SYSTEM / PAVILION / CAP / CAR STICKER / MUG / LANDYARD / HEAT PRESS / PAPER BAG / WOVEN BAG / STATIONERY / STAMPING / UMBRELLA / LIGHT REFLECTOR
MEMBEKAL, MENJAHIT DAN PERCETAKAN BAJU -T /MEMBEKAL CENDERAHATI / BARANGAN PROMOSI / SEMINAR BAG/PAKAIAN SUKAN/ALATAN SUKAN /PENGIKLANAN/BANNER/BUNTING/BOOTH PAMERAN /P.A SYSTEM/PAVILLION / TOPI/ STICKER KERETA / CAWAN / LANDYARD / HEAT PRESS / BEG KERTAS / WOVEN BEG / STAMPING / ALAT TULIS / PAYUNG / PANTULAN CAHAYA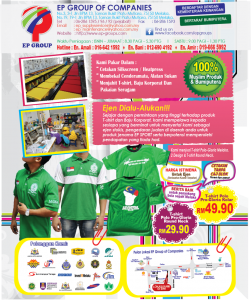 Rekaan terbaru  untuk baju Kelab Penyokong Bola Sepak Melaka. Rekaan kali ini kami menerapkan warna yang sinonim dengan bendera negeri Melaka iaitu Merah, Biru dan Putih.
Edisi keluaran kali ini mempunyai rekaan lengan panjang menggunakan kain Cotton TC berleher 'V'.  Kami juga ada mengeluarkan rekaan baju berkolar lengan pendek menggunakan kain jenis larcoste dengan rekaan yang sama.
(rekaan untuk baju berkolar ini akan kami sertakan kemudian)
Harga retail : Baju Berkolar larcoste lengan pendek – RM 55
                   Baju leher 'V' Cotton lengan panjang  – RM 40
*KAMI BUKA TEMPAHAN DALAM TEMPOH DUA (2) MINGGU.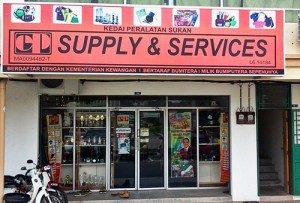 EP GROUPS
HQ Address: No. 3& 3-1, Jalan BPM 13, Taman Bukit Piatu Mutiara, 75150 Melaka.
GPS:  2.210659, 102.267869
Branch: No.11, Jalan Cemperai, 6 B/1, Taman Rasa Utama, 44200, Rasa Hulu, Selangor.
Contact: En. Bani @ 012-690 4192
Tel: 06-2861593/95/96    Fax: 06-286 1592
Business Hours: 8:30am – 5:30pm (Monday – Friday)   9am-1:30pm(Saturday)
Closed on Sunday
Email: [email protected]
Website: www.ep-groups.com  Blog: www.ep-supplyservices.blogspot.com

Job Vacancy
General Clerk
Graphic Designer with Experience
* HARGA ISTIMEWA UNTUK EJEN….
KEPADA SESIAPA YANG BERMINAT, DIALU-ALUKAN UNTUK MENGHUBUNGI KAMI UNTUK KETERANGAN LEBIH LANJUT.
EDISI JERSEY DAN MAFLA PASUKAN BOLASEPAK MELAKA INI ADALAH TERHAD.
* SIAPA CEPAT DIA DAPAT.
SEGERA BERTINDAK UNTUK MENDAPATKANNYA…SELAGI STOK MASIH ADA..
Gallery

..Some of Our Products..
 EP Supply & Services (Placemark)