We are not only advertiser, we are idea connector
ECIV design was incorporated in 2003 formally known as Design Advertising & Enterprise in Melaka. we are specialised in making your company look its best, with more than 10 years of experience in designing professional graphics and advertising material, we are the one source for all your Companies Design and Advertising needs.
Specialise in;
Graphic Design | Advertising | Printing
Printing | Creative Design | Offset Printing | ID/Member Card | Injek Printing | T-shirt | Non-Woven bag | Souvenir
Hurry~~~ Don't miss the deal!
~LIMITED TIME ONLY~
Stickers are printed and die-cut/kiss-cut on A3 sized self-adhesive sheet.
?Seasonal Sticker for Holiday & Festival.
– Holiday and festival gift-giving – Seasonal baking label– Personalised greeting. 
Great for adding contact details for home based bakery and small/medium bakery too since there is no minimum order quantity for custom stickers.  
?Kids Stickers
– Personalise children birthday party baby shower. – Full moon pack and name label. – Names with favorite carton characters, toys or animals.  – Own belongings: water bottle and food container – Reward stickers
?Wedding Favor Sticker/Label.
– Wedding gift – Invitation card stickers
?Product Label.
– Business & Corporate Gifts – Promotional event – Return address – Homemade & Handmade items and other product packaging.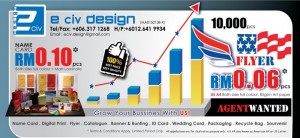 Address:  No.15, Jalan Mutiara 5, Taman Mutiara, Batu Berendam, 75350 Melaka.
GPS: 2.240747, 102.259551
Contact: Shawn @ 012-612 8210
                       Kym @ 012-641 9934
Tel/Fax: 06-317 1268
Business Hours: 8:30 am – 6:30pm (Monday – Friday)
Closed on Saturday & Sunday
Email: [email protected]  Webpage: www.ecivdesign.com.my

Job Vacancy 2018

GRAPHIC DESIGNER 平面设计师(有经验者为佳) RM1500-RM2000
?Good knowledge in print production.
?Excellent IT skills, with sound knowledge of design software such as Illustrator Plus photo-editing software, including PhotoShop.
?Good command of written and spoken English and Bahasa and Mandarin.
?Good creativity and innovation skills.
?Accuracy and attention to detail.
?Professional approach to time, costs and deadlines.
GENERAL/ADMIN CLERK 普通文员/书记  RM800-RM1500
?Female
?Handle general clerical duties e.g typing, answering phone calls, customer correspondence, invoicing etc
?Proficiency in Spoken & Writing English , Bahasa Malaysia & Chinese
?Computer literate in microsoft office application (Microsoft Excel & Word)
?Good Working Attitude
?Develop and carry out an efficient documentation and filing system.
~~~INTERN/PRACTICAL STUDENT ARE WELCOME ~~~
✅EPF and SOCSO✅Full Attendance Allowance✅Year End Bonus✅Annual Leave (After confirmed)
❤️ FULL TIME  – Mon-Fri : 8.30am~6.30pm
❤️ PART TIME  – Mon-Fri : 8.30am~2.00pm   (Suitable for house wife)

Eciv Design (Placemark)