D'Nias Beauty & Spa Melaka, a beauty therapy centre provide a one stop services for facial, spa, skin, slimming, resdung and hair therapy and care for you. D'Nias belive beauty thru treatment and therapy to rejuvanate your skins with vitamin C direct under the skin. D'Nias uses Dr. Azimuth products ( Halal & Chemical Free)  for all therapy.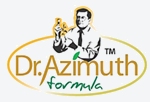 Specialise in;
Facial Therapy | Pelangsingan | Resdung Terapi
Massage | Facial Treatment | Reflexology | Make up | Muslimah Hair Salon | Spa | Slimming
Call  017-6122676
Pakar Urutan Melayu Tradisional hanya
RM39

! Call for appointment now!
Khas untuk wanita yang sakit belakang, belikat dan angin banyak!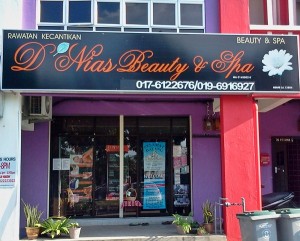 Address: No. 54, Jalan CB 1, Taman Cheng Bestari, 75350 Melaka.
GPS: 2.255638,102.225605
Contact: 017-6122 676
Business Hours: 10:30am – 7:30pm (Open Daily)
Email: [email protected]   Webpages: melakapages.com/dnias-beautytheraphy
Blog:  www.dniasbeauty.blogspot.com

Our Salon
D'Nias Beauty & Spa (Placemark)