Classic Alum Home Design & Renovation,  specialise in all in aluminium work include not limit to fixture and furniture manufacture, Interior design for both resident, retail shop and office, renovation work and consultation. With more than 25 years of experience in Aluminium works making  Classic Alum Home Design & Renovation your no. 1 choice to make your home for a new look.
FREE Drawing Quotation |   Direct Factory Price | Credit Card Instalment
Specialise in:
Aluminium Products | Kitchen Cabinet Aluminium 
Interior Design and Consultation, Renovation, Custom Furniture Design and Manufacture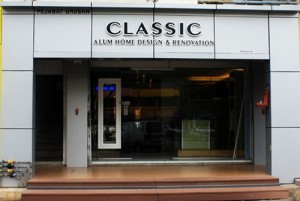 Address: G-7, Block Mawar 3, Jalan Murni 2, Taman Malim Jaya, 75250 Melaka
GPS: 2.237466, 102.232955   (+2° 14′ 14.88″, +102° 13′ 58.64″)
Contact: Mr. Lee  @ 012-635 2555 | 016-733 6185
Tel/Fax: 06-337 2051
Business Hours: 10 am – 7pm (Monday – Saturday)
Closed on Sunday
Email: [email protected]  Website: www.classic-aluminium.com
..Kindly visit our showroom for more design..

Classic Alum Home Design & Renovation (Placemark)