Chew Sofa Melaka, deal in Sofa & Car, Boat and Airplane Cushion, Sofa & Repair.
Chew Sofa with more Than 20 Years Experiences in repair leather sofa in various vehicle.
-专营傢俬绒布,汽车绒布,订做及複新沙发,办公室椅。
-超过20年的经验
Specialise in:
Sofa Repair | Massage Chair | Sofa Design
 Repair Leather Sofa |  PU | Office Chair | Bed Head | Design Sofa
..Contact us for FREE Quotation..
Address: No. 43, Jalan Pj 1, Taman Pertam Jaya, Semabok, 75050 Melaka.
New Address: 19, Jalan Seri Duyong 2/2c, Taman Seri Duyong 2, 75460 Melaka.
 GPS: 2.190177,102.278895
Contact: Mr.Chew @ 012-3711256 | 019-7672802
Watsapp & Wechat: 019-461 1185
Tel/Fax: 06-2865659
 Business Hours:  9am to 6pm (Monday – Saturday)
Closed on Sunday
Email: haiduchew@yahoo.com   Webpage: www.melakapages.com/chewsofa

Our Works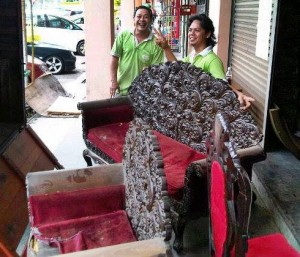 Antique Sofa Set 
Chew Sofa Design & Repair(Placemark)