Bintang MZ Tyres Auto & Enterprise, establish since 2004 specialise in car repair, auto services, diagnose, tyres and tuning.  Bintang MZ is 100% Bumiputera and registered with MOF Malaysia, which emphasis in quality services and founder himself with more than 15 years of experience supervise and hands on all services and repair.
Speciality service for
Kia & Naza Ria Engine Overhaul
(come with 1 year Guarantee or 40,oookm)
Gear box Overhual for Mercedes, BMW, Perdana V6, Volvo, Wira 1.6
Specialise in:
Workshop | Gearbox | Motor-Sport
V-Tec | Engine  | Modification | Tyres | Sport Rims |  Tuning | Computer Scanner | Battery | Emergency Break Down Services | Proton, Kia, Mitsubishi, Hyundai, Toyota, Honda and all kind of Japanese Automobile.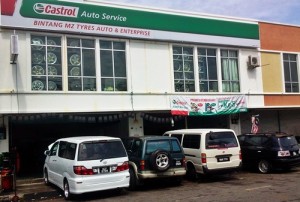 Address:  11/13, Jalan Seri Emas 37, Taman Seri Telok Emas, 75460 Melaka.
GPS:  2.166215, 102.331553
Contact:  Yatim @ 012-6075617  , 014-2306042
Tel/Fax : 06-261 6864
Business Hours: 9am – 7pm (Monday – Saturday)
Webpage: www.melakapages.com/bintang-mz-workshop
Sunday Emergency Call Only
Bintang MZ Tyres Auto Workshop

MZ Beauty Shoppe

 Contact: Ella @ 014-230 6042
Bintang MZ Tyres Auto & Enterprise (Placemark)