Bayu Group of Companies
Bayu Groups, establish since 2004, managing 3 different business portfolio for, 
Bayu Air-Cond & Electrical Trading | DHIA Emas Trading |
Bayu Beauty Shoppe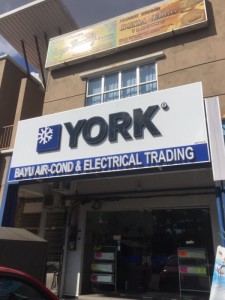 Office Address: No.25, 25-1 , Jalan TTC 26A, Taman Teknologi Cheng 75250 Melaka
GPS:  2.258243, 102.234735  (+2° 15′ 29.67″, +102° 14′ 5.05″)
Contact: Pn. Rosbayu @ 012-310 6850
                  Mohd Yazli @ 013-674 4377
Tel/Fax: 06-334 5968
Email: [email protected]
Office Hours: 9am – 6pm (Monday – Saturday)
Closed on Sunday
Website: www.bayugroups.com
DHIA EMAS TRADING
menjual, membeli dan mengedar barang kemas baru dan terpakai serta khidmat juruperunding
Specialise in:
Gold Trading | New and Used Gold | Consultation
Check our Facebook for more updates

BAYU AIR-COND & ELECTRICAL TRADING

 Bayu Air-Cond & Electrical Trading, specialise in Sales, installation and repair all kind of air-cond and home electrical appliance
Specialise in:
Air Conditioning
 DAIKIN | ACSON | PANASONIC
 Promosi Musim Panas
PEMASANGAN UNIT PENGHAWA DNGIN DI RUMAH ..
SIAP PEMASANGAN 1.0HP – RM 888/NETT
BRAND : TOPAIRE
BAYU BEAUTY SHOPPE

Memasarkan produk kesihatan & Kecantikan dan stokis Nazcon sauna
Specialise in:
Product Langsing | Kecantikan | Intim | Rawatan Rambut |
Sauna Set
 Click our website to buy online today!

 ..Some of Our Products..
Bayu Gropus (Placemark)