ASTANA Canopy telah ditubuhkan pada tahun 2005 di Melaka. Kami menyediakan perkhidmatan menjual dan menyewa kanopi. Selain itu, kami juga ada menguruskan majlis-majlis perasmian, hari konvokesyen, majlis hari jadi dan sebagainya.
 ASTANA Canopy was established in year 2005 in Melaka. We specialise in selling and renting  canopy. In addition, we also provide wedding planning, event management,  ceremonies, convocation, birthday parties, both private and government function.
 Specialise in;
Canopy
Canopy Rental and Selling, Canopy Design and Decor, Event management, Wedding services, Event setting, Mist fan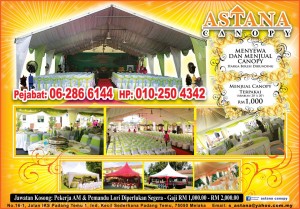 Address: No.15-1, Jalan IKS PT 1, Industri Kecil Sederhana Padang Temu, 75250 Melaka
GPS:  2.188086, 102.282994
Contact: Sue @ 016-284 6464
Tel: 06-286 6144   Fax: 06-286 6145
Business Hours: 8:30am – 5:30am (Monday – Friday) | 8:30am – 1pm (Saturday)
Closed on Sunday
Email:[email protected]    Website: www.astanacanopy.com

 ..Some of Our Canopy.. 
ASTANA Canopy (Placemark)