Andak Spa Melaka with the traditional kampung Malaysia ambient, a saloon for men to have traditional kampung spa in Melaka, which in Andak Spa by experience and professional masseur pamper you with exotic assortment of Spices, Herbs Juice, Herbs Ointment and combination of mature Alternative Traditional Therapy. Pak Andak the masseur with more than 35 years of experience in man health will surely get your health on track
Listen to your heart, come and feel the different and uniqueness
回复真正的您!
Mobile Spa to Hotel by booking
Massage by Appointment
Specialise in:
Men Massage | Traditional Massage
Aromatherapy Massage | Traditional Stretching & Strengthening | Aromatherapy Bath in Tempayan | Lime Bath | Steam bath with Herbs | Facial – Rejuvenation | Foot Treatment | Reflexology | Herbs Juice | Relax & Rejuvenate
马来传统按摩 | 香薰油按摩 | 香薰澡 | 恢复活力 |草药蒸汽澡 | 脸部护理 | 脚底按摩 | 草药饮料
Andak Spa, provide special bridal packages for men before the wedding
Lulur Badan atas Sampan | Urutan | Mandi Tempayan | Facial Wajah | Urutan Herba | Terapi Pengantin | Urut Sihat Lelaki | Resdung | Terapi Kaki | Bertungku Badan | Minuman Herba
Segarkan diri sebelum melangkah alam perkahwinan
About Pak Andak
Pak Andak masseur yag terkenal urut masalah laki-laki, dengan sijil sijil kemahiran urutan
Andak or simply known as Pak Andak is a well known traditional masseur in Melaka. Started his skill in massage since 1989, Pak Andak never stop to improved his skill in traditional men health massage, body massage, knowledge on herb , men exercise , and uses of traditional supplement. With this excellent skill Pak Andak running ANDAK Spa for men only located in Banda Hilir Melaka. Many traditional therapy such as traditional massage leaf bath traditional scrub aromatherapy head massage and tips for men health available in Andak Spa
Majority Pak Andak customer are local and foreigner especially from Singapore Australia Middle East n others SEA countries.
Men with health problem including ereticle dysfunction..Get Tips on overcoming it from Pak Andak
FEEL THE TRADITIONAL MEN MASSAGE WITH TRADITIONAL TOUCH
by Appoitment Only
Contact Pak Andak 0136384097 for appointment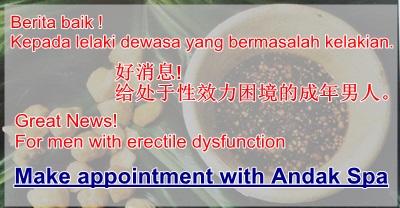 Anda Rasa Letih Penat?
Anda Rasa tidak Kenat?
Adakah anda dyfunction?
Hubungi Andak @ 013-638 4099
Andak Spa invited those interested to learn Kampung style Spa Therapy together with Universiti Teknologi Malaysia (UTM) in KL. Kindly contact Mr. Andak @ 013-638 4099
Traditional Leech Oil / Minyak Lintah Tradisi
草药让您重振雄风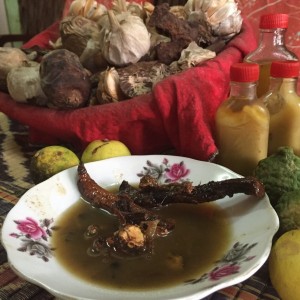 Minyak Lintah resepi lama turun temurun di Andak Spa amat baik utuk digunakan untuk urutan kesihatan laki-laki (urut batin) dan kesegaran kelakian. Ramuan tradisi ini di campur dengan pelbagai herba dengan proses jemuran. Diantaranya halia kering, serai wangi dan kayu manis dicampur dengan minyak lintah. Tidak hanya untuk kesihatan laki laki malah baik juga untuk kesihatan wanita teurtama di bahagian payu dara.
Traditional Leech oil from ancient recipe now available at Andak Spa. it's proven good for men health, rejuvenate your manhood. This is made with various herbs like ginger, cinnamon, and many more. it's useful for breast massage for women to reduce chronic sickness   
Berita Baik
kepada pasangan yg berusaha utk mendapat Cahaya mata
Amalkan minum Madu Tongkat Ali bagi suami Dan Madu Kacih Fatimah utk isteri serentak minum air buah zuriat untuk meningkatkan tenaga batin Dan tenaga dalaman
Untuk pesanan hubungi Pak Andak @ 013-638 4099 / 013-638 4097
Bagi suami dicadangkan urut sihat laki-laki dan isteri urutan wanita
"berusaha utk mencapai impian keluarga anda, serta kesuburan dan kesihatan badan"
Good News For couple who like to have children!
Drink Tongkat Ali Honey for husband and Kacih Fatimah Honey for wife along side with Doum Palm water to increase the energy inside you!
Call for order  Pak Andak @ 013-638 4099 / 013-638 4097
" strive to achieve your dream family, fertility and health "
Step on Training for Massage Classes also Available
Address: 2-1, Jalan PM 14, Plaza Mahkota, 75000 Melaka.
GPS: 2.188276, 102.245824
Contact: Andak @ 013-638 4099 / 013-638 4097
Call/SMS/Whataspp for Appointment
Business Hours: 12:30pm – 9:30pm (Tuesday – Sunday)
Closed on Monday

Our Products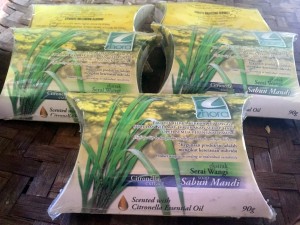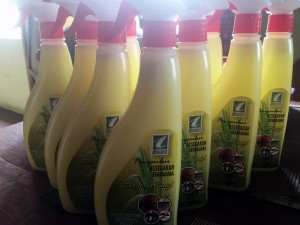 Petikan Wanita Hari Ini (13 May 2014)

Mandi Bunga – Petikan Nona TV3 (28 April 2013)

 Petikan Kosmo! 30Mar 2013

…Our Gallery…
Andak Spa (Placemark)